Teleclass Audios
for
EFT Basics and Beyond

An exclusive recorded teleclass series
by EFT Master, Lindsay Kenny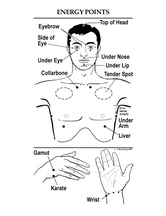 The Basics and Beyond packages is our most popular product for beginners. The series includes the basics of tapping first, then transitions into Progressive EFT™. We include step by step instructions as we work with a live audience member.

You can tap along with us as you listen from from your computer or MP3 player and benefit as if I were working with you personally. It's amazing how "Borrowing Benefits" works.

And, everything is marked down to our website, face-life celebration prices!

The Bonuses: Bundling Baggage and Playing to Win (deals with procrastination too)

Purchase the individual audios
Or invest in the entire 6-part Series for only $199
The package price includes our popular Bundling Baggage Technique
and Playing to Win teleclass audios FREE

$199 for all 8 audios

NOTE:

Please do not mistake our low prices for low value.

We actually offer some of the best EFT and Pro EFT™ materials available, anywhere. In fact, our clients tell us that our products are worth far more than what we charge. We make our audios, videos and articles affordable so we can reach more people with them.

We hope you appreciate that

.

Take advantage now of these "new- website" celebration prices.

_________________________________________________
You may also purchase each audio separately. Here are the topics:
EFT Basics and Accelerated Tapping
$49
Quickly learn the basics of EFT, the Shortcut, and tapping tips that will accelerate your success with EFT. This teleclass has already taken place, but you can still purchase and download the audio of this call.

____________________________

Reversals. How to identify them and neutralize them.
$29
Polarity Reversals are perhaps the biggest obstacle that can block tapping from working. This is not the same as the Psychological Reversal discussed in the EFT Basic Manual. There are 2 different kinds of Reversals which can be huge impediments to effective tapping. Buy the audio and get a FREE online video and e-Book of this process!

Reversal Neutralization --
SBS GPR

There are two types of Reversals that can prohibit tapping from working efficiently. Knowing how to identify and neutralize them can substantially increase one's effectiveness. The most common Reversal is the Secondary Benefit Syndrome (SBS) which can stop tapping in its tracks. It really just a subconscious resistance to change and we all experience this frequently in our lives.

The second, less common type of Reversal, is the General Polarity Reversal (GPR.) This little e-Book teaches both Reversal types, which helps even new students get MUCH better results with tapping.

__________________________________

Cravings, Addictions, Excessive shopping and other Obsessions
When any normal activity becomes obsessive and negatively affects your life or that of your family, then it needs to be dealt with. Often food or other obsessions fill a "hole in your soul"...temporarily. Find the cause and eliminate it, and you're 60% of the way to curing your addiction or obsession.
$29


____________________________

Finding and Dealing with Core Issues
One of the most important tenements of EFT is to find the cause of your problem or symptom. Until you do your tapping will seem ineffective. Yet finding the core issue is not always simple. It's often hidden under layers of other junk. Learn how to get to the bottom of things in this class.
$49
____________________________


Eradicating Guilt and Shame
Often victims feel it's their fault, particularly children of an impressionable age. They blame themselves if their parents fight, or if they are physically or emotionally abused, or for hundreds of other non-valid reasons. Even as adults we often go from complete unaccountability to total shame, blame and guilt. We'll help you turn eradicate those negative emotions and behaviors.
$29

____________________________

Transforming Low Self-Esteem into Unshakable Self-Confidence
It's a tragedy that people suffer from low self-confidence, yet millions of people do. In this class you'll learn how to identify the cause of your lack of confidence and turn it into self love, respect and confidence.

$29
Register for the entire 6-part series: $199 and receive the popular
Bundling Baggage Technique, and Playing to Win audios Free!



$199
__________________________________
Bundling Baggage may be the most powerful and important technique in Pro EFT.

If you were repetitively emotionally or physically abused by your parents, siblings or peers, or had an alcoholic mother or father who ignored you, or experienced any number of childhood traumas, then you need to hear this audio.

These experiences mean that you received multiple messages that you were not OK, didn't matter, or that you just weren't good enough. Unfortunately, those messages are written on the indelible slate of who you are as an impressionable child.

Learn how to erase those messages and traumas and reclaim your life with the Bundling Baggage Technique. Free with this package .

This audio is free with the packag, or you may purchase the Bundling Baggage Technique separately.

$39.00

Playing to Win: Fixing Procrastination and other "being stuck" iss

ues

Playing the Game of Life with a "Not-to-lose" attitude is an all-too-common problem. In this teleclass you'll learn how to make and everything you do so much easier. Learn how to win at everything you put your mind to, by using EFT and the Law of Attraction.

Most people aren't even aware they are making decisions on the premise of "trying not to fail". In this teleclass you'll learn how to make life (and everything you do) so much easier. You'll learn how to "Play to Win", get unstuck, keep commitments and make your life so much more enjoyable and productive! You'll learn about the "Mountain vs. Mole Hill" syndrome and how important that perspective is is in your life. Changing your point of view, via tapping, can change your life.

Do away with being late, missing deadlines and other embarrassing faux pas. Learn how to win at everything you put your mind to. And just as importantly, learn how to make everything easy!

Eliminating Procrastination - Playing to Win - This audio is one of the bonuses in the Basic Tapping Audio Series. However, if you want to purchase it separately, here's the puchase key:

$29.00
Register for the entire 6-part series: $199
and receive the popular Bundling Baggage Technique,
and Playing to Win audios Free!



$199
________________________________________________________
Read about our Power Package Teleclass Audios and purchase them securely here: Power Package audios or CDs

Read about our other products and services on our EFT Products page
___________________________________
Please read Teleclass Waiver and Etiquette below before registering for a live class.
By registering for this teleclasses and by using these techniques on myself or others, I am agreeing to take full responsibility for my own well-being and will advise my clients or other EFT subjects to do the same.
I agree to hold harmless Lindsay Kenny, the teleclass leader or Gary Craig, the founder of EFT, for any side effects or results of the treatment. I understand that while there have been no documented negative side effects from using EFT when properly using EFT, this does not mean that I will not experience side effects. I further understand that known side effects include, relaxation, peace of mind, an optimistic outlook, and more joy in life.
I understand that EFT is an experimental therapy and is not meant to replace standard medical and/or mental health counseling.