Pro EFT
Tapping 4 Abundance
Workshop
The best way to learn about our Law of Attraction Program is to take our
"Attracting Exactly What You Want" 6-week program at I Can Attract.com
After taking the Attracting Course, you can also join our monthly membership program
where you have access to a wealth of Attracting Material



Tapping for Abundance (Level 1 experience required)
In this workshop you'll learn how to use EFT to attract what you want in life...and tapping away the blocks that have been in your way

We also provide 16 CEUs, or CEs for MFTs, RNs and LCSWs

The tuition for the Tapping 4 Abundance Workshop is $395, however, there are no live workshops scheduled at this time. You can however, take our pre-recorded "Attracting Exactly What You Want" 6-week webinar course. Read about it at www.ICanAttract.com
____________________________________
We offer many other tapping workshops
Check out our Workshops Page for all scheduled classes for this year
or download our training schedule
Read how and why Pro EFT differs from basic EFT
Still not sure? Read what others have had to say about our workshops.
with Lindsay Kenny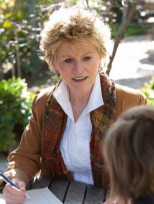 EFT Master, Founder of Pro EFT and the EFT Institute
Certified AAMET EFT Trainer of Trainers
____________________________________________________

All Registration Options
Space is limited so you must pre-register to attend!
We accept

Once registered, you will be given more information about transportation, accommodations, meals, logistics and more.
Still have questions? Contact us
________________________________________
If you can't attend our workshops live, consider our Level 1 and 2 Webclass recordings



*We offer 16 CEU's or CE's for
for MFT's, LCSW's, and RN's
These educational credits are valid for California practitioners, and other
participating states only. Please check in your state for reciprocal
CEU acceptance. Certificates of Completion are awarded
based on successful completion of this course.
---
Cancellation Policy:
All fees are refundable up to 1 week prior to the course date, less a $20 administration charge.No refunds will be given within 1 week of the class.However, you may apply your paid tuition toward a future course, without a transfer charge.
More questions? Contact us