Progressive EFT

™


Level 1

and

2 Workshops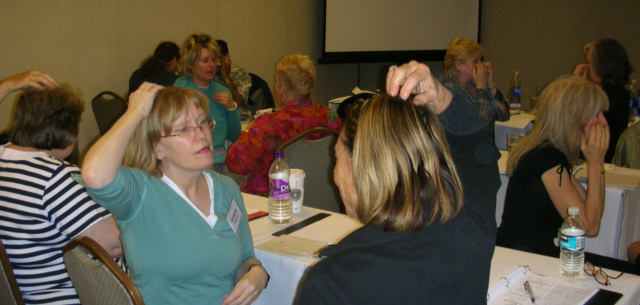 We offer many other tapping workshops

Check out our Workshop Schedule for 2014

View some fun pix of our Level 3,
Ultimate Practitioner Workshop grads

Read how and why Pro EFT differs from basic EFT

_______________________________________________________________

All classes are 9am to 6pm

Level 1- The Basics and Beyond: This Workshop provides not only a solid foundation to tapping, but takes you beyond the basics with Progressive EFT processes, like the Golden Gate Technique and Reversal Neutralization . We teach you how to use it to alleviate negative emotions like stress, anxiety, phobias, frustration, anger, cravings, and more. You'll learn how to integrate muscle testing with tapping, and simple and complex issues, Borrowing Benefits and more. These experiential workshops are 8 hours long and are enjoyable, fast-paced and enlightening. You should leave with a good foundation of tapping, knowing how to comfortably use it for yourself, family and friends on basic issues.
Space is limited so you must pre-register to attend!
____________________________________

Level 2- Innovative and Intermediate Tapping - Using Pro EFT™ to help you on your personal healing and growth. This 2-day course will help reinforce what you will have learned in the basic course and takes you to the next level of expertise. In this workshop you'll learn how to use Pro EFT for more complex issues and multi-faceted issues. You'll also learn more about, tapping into your intuition, and Lindsay's Bundling Baggage Technique and other advanced Pro EFT™ techniques.

If you feel drawn to spirituality and wonder how tapping could be helpful on your path, then we want you to be part of this! We invite you to join us at this spiritually-oriented weekend as you learn to use these powerful techniques. When you leave you'll have tools to effectively release the negative emotions and limiting beliefs that get in the way of finding balance, joy and ease.

Our intention is to help you open up to greater possibilities and peace as you identify and work with what emerges. Pro EFT is a wonderful tool that can support your intention while staying present in the moment. We are looking forward to tapping and exploring with you!

We also provide 16 CEU's, or CE's for acupuncturists, MFT's, RN's and LCSW's Register for both Level 1 and 2.
Still not sure? Read what others have had to say about our workshops.



Dates & Times:

TBA - We do not have any more Level 1 or 2s scheduled for 2014, but are working on something for the fall. However, you may register for our pre-recorded Level 1 and 2 web-classes and learn from home! Read more about those here: www.ProEFT.com/webclasses/Level1_2RECORDINGS_Reg.html

All classes are 9am to 6pm
Level 1 and 2 San Francisco Bay Area

Space is limited so you
must pre-register to attend!
We accept

Once registered, you will be given more information about the venue, transportation, accommodations, meals, logistics and more.
Still have questions? Contact us
________________________________________
If you can't attend our workshop lives, consider our Level 1 and 2 Webclass, coming soon. Watch our newsletter for the upcoming dates.

Our live workshops are the best, because you get to practice with others and ask questions. But if that's not possible, then our Level 1 and 2 Web-classes recordings are the next best thing. Level 1 & 2 Web-classes recordings

________________________________________

Venue and Accommodations: We hold our workshops at either one of these fine Bay Area Hotels:

The Novato Oaks Inn www.novatooaksinn.com
Novato, CA 20 minutes north of the Golden Gate Bridge.

The Acqua Hotel; www.AcquaHotel.com


The Novato Oaks Inn a Best Western Hotel:
215 Alameda del Prado, Novato, CA 94949
415-883-4400

It is important that participants stay at the hotel and we have negotiated some nice room rates for you. We'll have some evening events, tapping with each other and socializing. And you'll want to stay there, it's a lovely hotel, for a low price (for the Bay Area.)

Rooms from $129 if booked 30 days before the event.
Hotel and sales taxes will be added to the room prices.

Meals: There are numerous choices for lunch and dinner the other days. Those who have cars will most likely be willing to share rides to different restaurants.

*We offer 8 CEU's for Level 1 only and 16 CEU's for Level 2
for MFT's, Acupuncturists, LCSW's, and RN's
These educational credits are valid for California practitioners, and other
participating states only. Please check in your state for reciprocal
CEU acceptance Certificates of Completion are awarded
based on successful completion of this course.
---
Cancellation Policy:
All fees are refundable up to 1 week prior to the course date, less a $20 administration charge. No refunds will be given within 1 week of the class. However, you may apply your paid tuition toward a future course, without a transfer charge.
More questions? Contact us