Welcome to our
Tap Away Pain, Illness and Disease
3-Part Video Series


Get all three videos, plus the bonus material for only $29.95


Here's what's included in this program...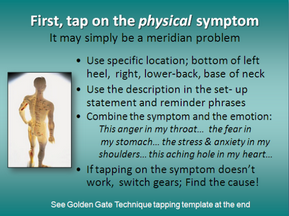 Part 1a: "Tapping on the Symptoms", the Golden Gate Technique and Reversal Neutralization - Where to start with the simplest issues and where to go from there. The The bonus Golden Gate Technique will give you a template to help tap with all future issues, even non-health related.
The Reversals video will also help you neutralize any subconscious resistance to healing. THAT technique alone could be the best thing for all of your tapping issues.
This 3-part series also comes with additional free
videos and other support material.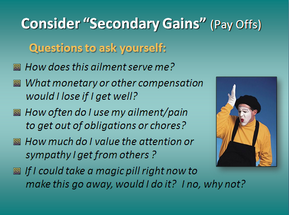 Part 1b: "Discovering and Neutralizing the Cause of Ailments" and "Chasing the Pain". It includes:
* Asking yourself tough questions and tapping on answers that could block your healing.

* Sample set-up statements and reminder phrases

* Chasing the Pain: the phenomena of pain trying to run away from you within the body.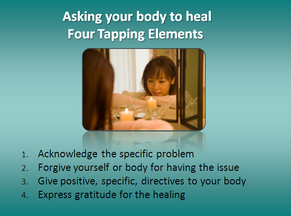 Part 2: "Asking the Body to Heal"

This finale to the series will teach you techniques to support your body in doing what it already knows how to do. Our physical self loves respect and appreciation and it knows how to heal us. It doesn't feel good to be berated for doing something wrong. Yet we often get mad at parts of our body for being sick or sore. I've heard people using language toward themselves (their body) that they'd never say to their worst enemy.

Learn how to turn that anger and frustration into acceptance and appreciation as you "Ask Your Body" to heal itself.

Other things you'll get with this third video are:
Sample set-up statements and reminder phrases

Color PowerPoint handouts for each video

The ability to download the products to your iPhone, iPad or other smart phone.
By purchasing this 3-part Video package, you also receive Lindsay's teleclass audio download on Tapping Away Pain and Illness, Free.
Order your "Tap Away Pain and Illness" videos now



This 3-part series, normally $59.95 is on sale now for $29.95
(as part of our Website Facelife celebration)
This 3-part series also comes with additional free
videos and other support material.
If you like this video presentation, we think you'll like our
Tapping Away Indecisiveness video presentation as well.
If you are new to Tapping, you will want our free Starter Package. It includes an EFT / Pro EFT
eBook, as well as our tapping chart, audios and videos. Having a foundation of EFT
will help you maximize your results with all tapping-related material.
__________________________Back to the top________________________
Note: Lindsay Kenny is not a medical doctor, nor does she play one on TV. :-) The techniques and processes shown in these videos are not intended to replace regular medical treatment, but rather to offer additional, alternative treatments for relief. Do not stop taking medications, unless under the supervision of your health-care professional.